Jason Barth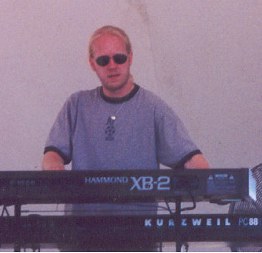 Fave song off of Undone( and why)
Undone. It's such a powerful, yet beautiful song. Beautifully simple.
Fave 5 cd's:
Counting Crows - Recovering the Satellites
Bruce Hornsby - Hot House
Sarah McLachlin - Surfacing
Billy Joel - Cold Spring Harbor
Anything from Lenny Kravits!
Biggest influence(musical and/or personal) -
Bruce Hornsby (musical of course)
1st album you bought:
Michael Jackson's Thriller (on LP)
1st concert you attended:
Huey Lewis & the News at the Rosemont Horizon in Chicago (8th grade)
Who is your Hero: Superman
Guilty pleasure (Musical or what not):
I have no guilt associated with pleasure
If you could have dinner w/one person, dead or alive, who would it be? Why?:
Heather Locklear; why ask why?
Fave Book:
John Densmore's - Rider's on the Storm
Fave Author:
Tom Clancy
Fave Song (non PDT):
wow, that question is too hard
Fave Musician(s):
Counting Crows
Fave Quote:
You can't hit a home run if you're not at the plate!
Most over-hyped thing in the world:
any product that has a stadium or arena named for it (i.e. the Verizon Wireless Music Center; yuk!)*
Most under-hyped thing in the world:
PD&T?
Fave Movie:
this one's too hard also (Star Wars or Austin Powers - International Man of Mystery)
Fave Actor:
Sean Connery (bad Ass)
Fave Actress:
Michelle Pfieffer
Highlight of the band's career:
Playing with the Counting Crows (are you getting the picture?!)
Best PDT Show Memory:
Playing the Metro in Chicago in order to get on the HORDE tour (1997). We had so much support at that show from friends and fans. It was very emotional.
Most embarassing thing that has ever happened to you on stage: Just watching Tay and Jason's antics on several past occassions
*Verizon Wireless Music Center is the new name for Deer Creek. ~P