Matt DeVore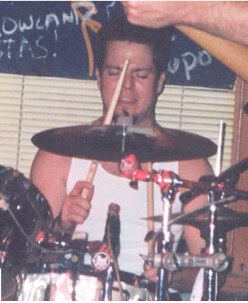 Everything you need to know about Matt:
1)Favorite song off Undone is Valentine
2)Favorite 5 CD's are REM- Murmur, U2- Achtung Baby, Sting -"Bring on the Night" live, The Why Store- 1st album, PDT- Undone
3)Biggest Influence musical is Kenny Aronoff
4)1st album I bought was Joan Jett and the Blackhearts "I love Rock n' Roll
5)1st concert I attended was John "Cougar" (in those days) Mellencamp
6)My hero is Kenny Aronoff
7)Guilty pleasure, I never feel guilty
8)I would have dinner with John Candy, that guy could put it away!!!
9) Fave book- I don't read books
10) Fave Author- I don't read books
11) Favorite song is Perfect Circle- by REM or Every Breathe I Take, Police
12) Favorited Musicians are Kenny Aronoff, Sting, Branford Marsailis, Eric Clapton, and Lennon/McCartney
13)Favortie quote- "Those aren't PILLOWS!!"
14)Most over hyped thing in the world are Tays Purple pants
15)Most underhyped thing in the world is Brown's Underwear
16)Fave movies Planes Trains and Automobiles, Star Wars Trilogy, Home Alone 3
17)Fave Actor -Tie with Mel Gibson and Harrison Ford
18)Fave Actress -They're all good
19)Highlights of the Bands career :Being able to play in a band with the same group of guys for over 7 years!!!! And being successful with great Fans!!!
20)Best PDT show Memory- Biggest was Deer Creek, X-Fest 99.Best was Butler University Frat Party 99
21)Most Embarassing thing ever happened to me was about 3 years ago at a frat party at Purdue, we had this great light show going on in this tiny little frat basement. The room was packed!!! We get ready to go on "stage" which was a postage size stamp spot against the wall, The intro music is playing, people are cheering, the place is deafening!!! We walk on Stage, our Lighting engineer decides to turn the lights off as a dramatic effect..... I Fall flat on my face, tripping over my drums, my electric fan, knock my seat over, spill my drink, and I'm on the floor for like 2 minutes.....But nobody sees me because it is pitch black, so I gather myself up, straighten my drums, put my seat back up, and pick up my sticks. Lights come up, we start playing and no one ever saw!! I ROCK!!!!