Title 106

What am I listening to?
My top 10 cd's (in no particular order):
-"Third Eye Blind"- Third Eye Blind
- "Undone"- Push Down & Turn
- "Live Through This"- Hole
- "When the Pawn..." Fiona Apple
- "Four Minute Mile"- The Get Up Kids
- "The Medicine Sessions"- Push Down & Turn
- "The Verve Pipe"- The Verve Pipe
- "Celebrity Skin"- Hole
- "No Name Face"- Lifehouse
- "So Much for the Afterglow"- Everclear
My favorite bands/artists...
Push Down & Turn
Anybody that knows me at all knows that I am a HUGE Push Down & Turn fan. I even run the first PD&T fan-site. They have talent out the bootie, and are great people. I hope that everybody that sees my site will check out Push Down & Turn. They are some of the coolest people I have ever met, and are great musicians. They are probably my favorite band. Thier latest cd "Undone" is a masterpiece. Check out their single "Valentine" as you WILL hear a lot of it sometime soon.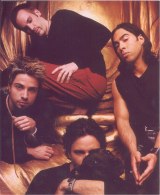 Third Eye Blind
This is a band that I have loved for a number of years. Stephan Jenkins has a way with words that very few people do. You can check out some of my fave 3eb lyrics under the "Quotes" section. I've been fortunate enough to see the band 4 times, meet them twice, and get FIRST row the other two times. Seeing them at Deer Creek with Lorah was one of the best things that ever happened to me. It was a great night.
Hole
This is a remarkable band. They have SO many talented people in it. From Patty Schemel to Kristen Pfaff to Melissa Auf der Maur and the Queen of Grunge herself, Courtney Love. Their sophomore disc "Live Through This" has been a fave of mine for many, many years. It is something that I can listen to everyday, and never get tired of.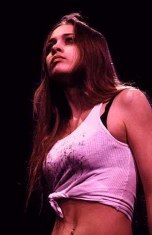 Fiona Apple
This is one angry bitch. But, I love her. She is actually one (of the many) people that I really took notice to because of my friend Lorah. Fiona's sophomore (and sadly, probably last) cd "When the Pawn..." is fantastic. She is a terrific poet, and I hope she continues to write such art, and share it with the world...
There's a lot more I can put, and will put. Right now I'm lazy!