The Reviews

What do you think of "undone"? Let me know! What do ya love about it? What song is the best? Drop me a line when ya get the cd!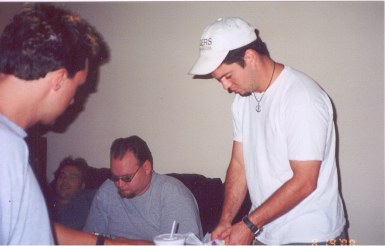 Push Down & Turn, Undone, Indie 500 Records.
This is a band that broods with the best of them, yet fumbles its attempts to be lighthearted.
Push Down & Turn made the second half of new album Undone measured, dark and believable.
The all-acoustic Valentine, with mandolin highlights reminiscent of R.E.M.'s Losing My Religion, is one of the year's most memorable local singles. The song comes second in a five-song stretch that finds vocalist Jason Brown expertly mining all manner of boy-loses-girl angst.
PD&T's lyrics are written by bass player Tay Bourquein and non-band member Jerry Woodbine, who should be praised for the thoughtful words of Think About Me and Glass Carousel.
What's most puzzling, then, is that Bourquein and Woodbine also are responsible for Undone's first half, where the lyrics manage to be both dated and juvenile.
Consider T-Top Queen, a paint-by-numbers "saw your picture in a magazine" fantasy -- complete with a reference to 53-year-old Cheryl Tiegs. Surely, this was handled better in the 1980s by the J. Geils Band (Centerfold) and Van Halen (I'll Wait).
Then there's She Don't, a slightly mean-spirited take on the narrator's lack of will power. It's safe to say the Offspring said all that needed to be said on this topic with 1994's Self- Esteem.
If Undone were available in vinyl, my suggestion would be to buy it, play Side 2 and forget the rest.
(Also worth noting is the album's cover art, a fantastic image contributed by Indianapolis photographer Matthew Aaron.)
• For more information, visit www.pushdownandturn.com.
---From the Indianapolis Star--- 11/27/00
Push Down and Turn, Undone (Indie500 Records)
Push Down and Turn has had a hard time establishing street credibility during its seven-year existence. Despite filling clubs with good-time originals and covers, other bands questioned their skills and their dedication. Those questions have been put to rest with Undone, PD&T's third, and best, album. Assisted by studio wizards Paul Mahern and Eric Johnson, the band has assembled a strong collection of original songs that range from beer-drinking party rock to moody alternative tunes. A stunning achievement from a historically underrated band.
---From Nuvo.net--- 11/00