Sam King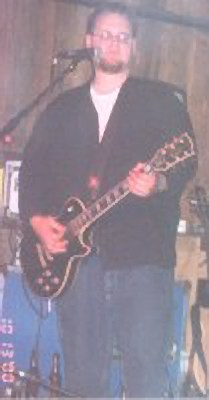 Fave song on Undone:
Valentine. Mainly because I came up with that mandolin part off the top of my head and it worked.(And because we proved we could rock without any electric guitars!)
Top 5 fave cd's:
1.Prince-Purple Rain
2.The Doors-L.A. Woman
3.Toad the Wet Sprocket-Dulcinea
4. Pink Floyd-Delicate Sounds of Thunder
5. Beatles-White Album
Fave actor:
Tom Hanks. He can play anything and draw you into the role. From the kid in "Big" to Philadelphia to my favorite Forrest Gump, he just makes me believe his roles. (and he's pretty funny, especially in Splash!)
Fave actress:
Meg Ryan. Her role in the Doors selaed that one.
Quote to live by:
Don't quit your day job!! (Thanks to Mick Fincher.)
Fave song:
"Small Town"-Mellencamp. I wish I wrote that one.
Best PDT moment:
Horde 97 in Chicago at the World Music Theatre. The best show I've ever played.
First record you ever bought:
1999- Prince (still have it. It's a doublr album on Vinyl.)
First concert attended:
Bon Jovi-Deer Creek 1988-New Jersey Tour
Your Birthday:
Valentine's Day
Etc.: I don't understand the whole thing with Creed. I just don't get it. Somebody explain it to me